T
ake cover! Infinity is a game that actually simulates live fire-fights with even your toughest heroes suffering critical injuries and your troopers getting mowed down by heavy machine guns.the most important rule is to keep your head down


In my first game last night I ran a Yu Jing battle group of six soldiers. Yu Jing is a Pan-Asian empire that specializes in heavy infantry, clad in power armor wielding advanced and traditional weaponry. The core of my force was three Zhanshi with combi-rifles. Zhanshi are your basic trooper, nothing special here. Combi-rifles are akin to a bolter in 40k but have a maximum range of 36 inches, with heavy penalties for long range shots.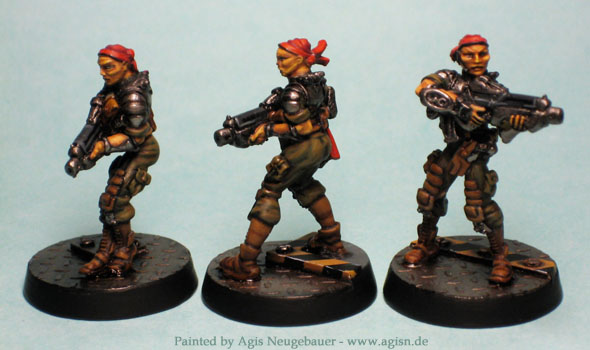 For my heavy infantry I brought a Tiger Warrior with sniper rifle and an Invincible with Heavy Machine Gun or HMG. Both these soldiers wear power armor and carry deadly weaponry.

Next up is my lieutenant. The lieutenant is your army's ground commander and his survival is important to winning games. His/her death means you lose a turn, a fearful prospect as one turn can mean life or death for your troops. I nominated a second Invicible as my lieutenant.

My opponent was gracious enough to teach me the game as we played so he took units which would highlight some of the rules. He also had a Yu Jing force and brought some Invicibles, some Zhanshi and a shaolin monk.

I won the roll for deployment, chose an edge, set up and gave first turn to my infinity mentor. He kicked off the game by tossing a smoke grenade so some of his troops could get into firing positions. By positioning his Invincible with an HMG in cover, he created a veritable machine gun nest, that then proceeded to gun down my lieutenant in the first turn. I would have lost of turn because of that but my mentor skipped that rule as it was more of a demo game than an actual match. Note to self, keep your lieutenant protected, lesson learned.
In return, I started to work my troops into position to start laying pressure on that HMG nest. After losing a Zhanshi to return fire, my Invincible's HMG managed to gun down his, and make short work of the line troops supporting the position. While doing so, one of his heavy infantry was flanking me on my left. Seeing this, I had to reposition my sniper in order to get a good line of fire on his avenue of approach. As his power-armored soldier rounded the corner to fire on my line troops, my sniper took aim and got a direct hit. A sniper's bullet penetrated his armor and felled the attacker in silent death.
With that threat nullified, it was my time to execute the killing blow. I began to move up my heavy infantry but fumbled the moves a bit and lost my sniper while fleeting from cover to cover. That's the beauty of Infinity, you really have to be careful where you step or you'll be pushing up daisies.
In the end, my Invincible leaped up a hill, shrugged off some fire, and pumped the enemy full of lead to kill off the last pockets of resistance. Rambo moves like that aren't uncommon in Infinity but they are risky!
Infinity really is an exciting game. One thing that struck me was the vulnerability of even the most elite infantry, which creates a lot of risk and excitement during the game. Though, there were many things we skipped over in this game, like gut-checks and hackers, I feel pumped up to keep playing Infinity.